IEEE
The Institute of Electrical and Electronics Engineers (IEEE) is the world's largest technical professional society. Founded in 1884 by a handful of practitioners of the new electrical engineering discipline, today's Institute includes 77,000 students within a total membership of nearly 377,000 members, who conduct and participate in its activities in 150 countries. IEEE-members are technical and scientific professionals making the revolutionary engineering advances, which are reshaping our world today.
The technical objectives of the IEEE focus on advancing the theory and practice of electronics, electrical engineering, computer engineering and computer science. To realize these objectives the IEEE has a worldwide representation through more than 1200 Student Branches and chapters.
IEEE sponsors scholarships, awareness programs, technical conferences, seminars and local meetings. Furthermore the IEEE publishes over 30% of the world's scientific literature in its field of interest and provides educational programs to keep its members' knowledge and expertise state-of-the-art.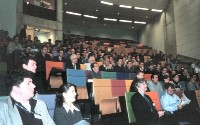 Student Branch Twente
World-wide, the IEEE operates in 10 geographical regions, subdivided by Sections in which local chapters and student branches organize activities. The Student Branch Twente is located in region 8, which roughly consists of Europe, Africa and the Middle-East. Next to annual conferences, technical meetings and other professional events, there are several student activities like the Region 8 Student Paper Contest, a two-year Student Branch Congress and awards-, scholarship- and exchange programs.
The IEEE Student Branch Twente was officially founded in 1989, but there are reports of branch activities that date back to 1968, only 7 years after the University of Twente was founded. In 1999 the branch has been renewed drastically. A new branch office was established and a new website launched. Current activities of the Student Branch Twente include:
• Promotion and support of IEEE Membership at University of Twente;
• Organization and support of international events and study projects like Shouraizou, mostly in co-operation with fellow student organizations;
• Helping students to find an internship, exchange program or other practical assignment abroad using the IEEE world-wide network;
• Participation in Region 8 activities (e.g. R8 Student Paper Contest, Student Branch Congress);
For additional information, you can visit the website:
IEEE Student Branch Twente -
http://www.ieee.utwente.nl