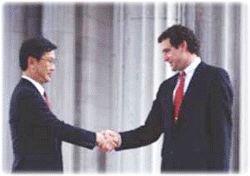 Japanese course
Language is one of the key factors in bridging the cultural gap between cultures. The participants and organizing committee of Shouraizou recognize that and therefore follow a Japanese course.
This course is provided by Marcel van den Elst in cooperation with the International Office of the University of Twente and is organized mainly for the study project. A description of the contents of the course can be found
here
.
The course contains exercises and tests which enables students to check their progression. The first course consists of 16 classes and will be ended with a written examination. In case there is enough interest, a second and even third course of 16 classes may be organized.
Read more about Marcel and the course in a Dutch
interview with UT-nieuws
, the weekly newspaper at the University of Twente.
Latest News
News on tests and homework can be found on Marcel's Irasshai homepage. We have also collected some useful links that will help you during your study.

After the first class on March 31st, it turned out that the group of students needed to be splitted into 2 smaller groups. The lecture times and locations of these groups are:

- Group 1: Tuesday & Wednesday, 8:30h - 10:30h, HO 8128
- Group 2: Monday & Tuesday, 18:00h - 20:00h, B1220

You can click on the group number to see if you are in that group. It is not allowed to switch between groups without permission from Marcel van den Elst.

Participants that follow our minor program 'International Exploration' will receive 2 studypoints for this course. The costs of the course are 95 euro, to be paid to Marcel van den Elst. For participants, the course is subsidized by the International Office of our university. The book 'Japanese for busy people' costs 25 euro and can be purchased at the committee's office ('toko').


Created on 04/01/2004 09:55 AM by RolandMe
Updated on 11/15/2006 10:50 PM by MartinW