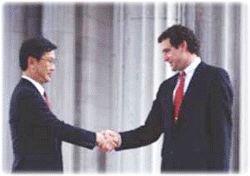 Japanese course
Language is one of the key factors in bridging the cultural gap between cultures. The participants and organizing committee of Shouraizou recognize that and therefore follow a Japanese course.
This course is provided by Marcel van den Elst in cooperation with the International Office of the University of Twente and is organized mainly for the study project. A description of the contents of the course can be found
here
.
The course contains exercises and tests which enables students to check their progression. The first course consists of 16 classes and will be ended with a written examination. In case there is enough interest, a second and even third course of 16 classes may be organized.
Read more about Marcel and the course in a Dutch
interview with UT-nieuws
, the weekly newspaper at the University of Twente.